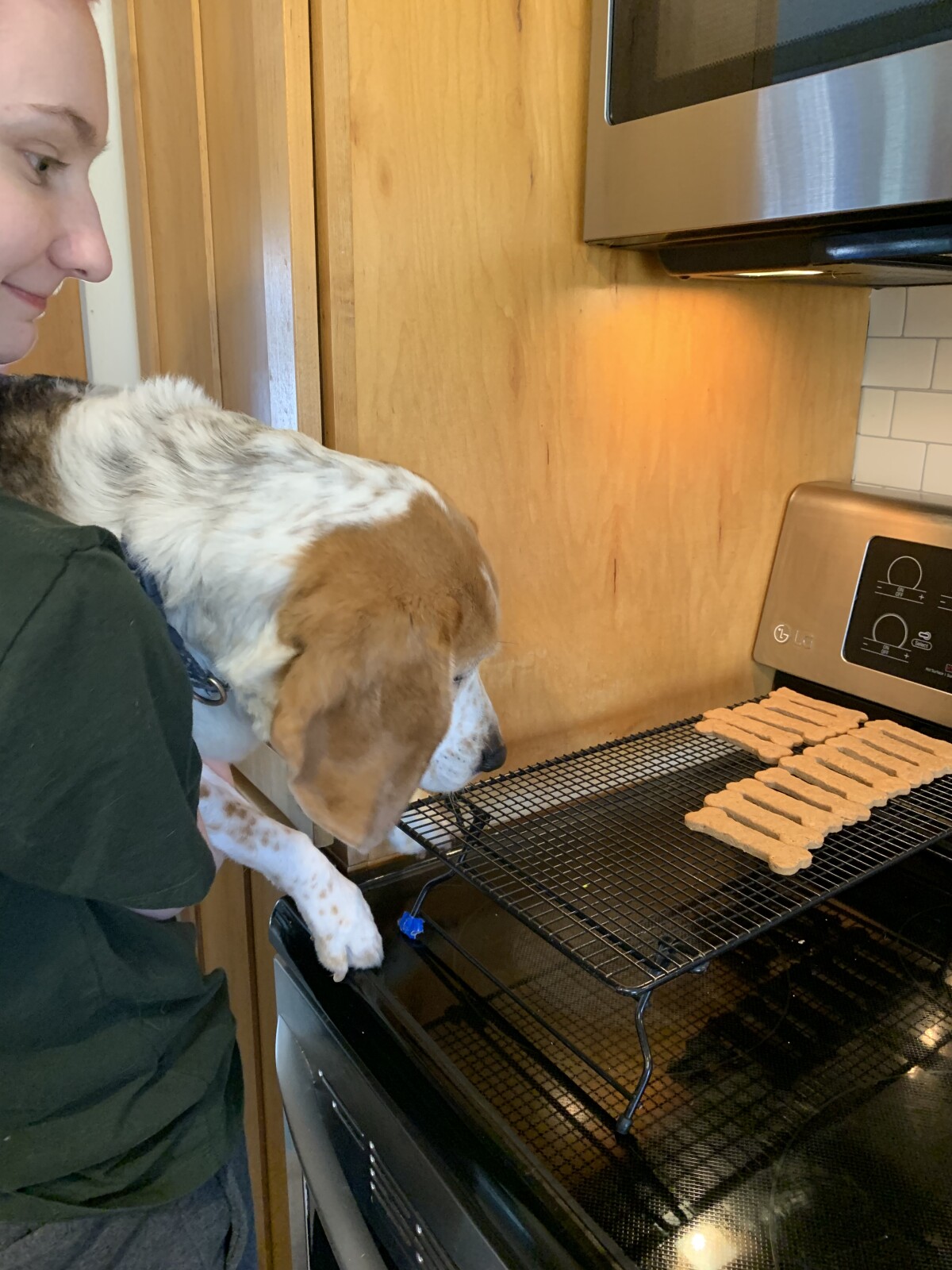 Scout wants those biscuits. Can you tell?
My daughter made dog treats while she was home and Scout has been trying every trick in the book to get one as often as possible.
It all started when he was a puppy. Like most new puppy owners, I rewarded him for going potty outside. I guess I never stopped.
The joke was on me. I am now trained.
I don't always have treats around , but when I do, he knows it.
This is a common scenario: Scout asks to go outside. I open the door. He steps out on the deck, turns around and looks inside. Gives me the stare. Waits to be let in. I let him in. He looks up to the counter asking for a treat. I decide not to give him one (or I do). He then asks to be let out again. Sometimes he will actually leave the deck to do his business. Regardless, he always stops inside to receive his reward. Even if he already got one. One is not enough. To be fair, they are small pieces of a larger treat, so he's not getting a whole lot to begin with. Still.
I am perfectly aware that I (and the rest of his lovely people) have created this sometimes infuriating behavior, but… those beagle eyes. What else can I say?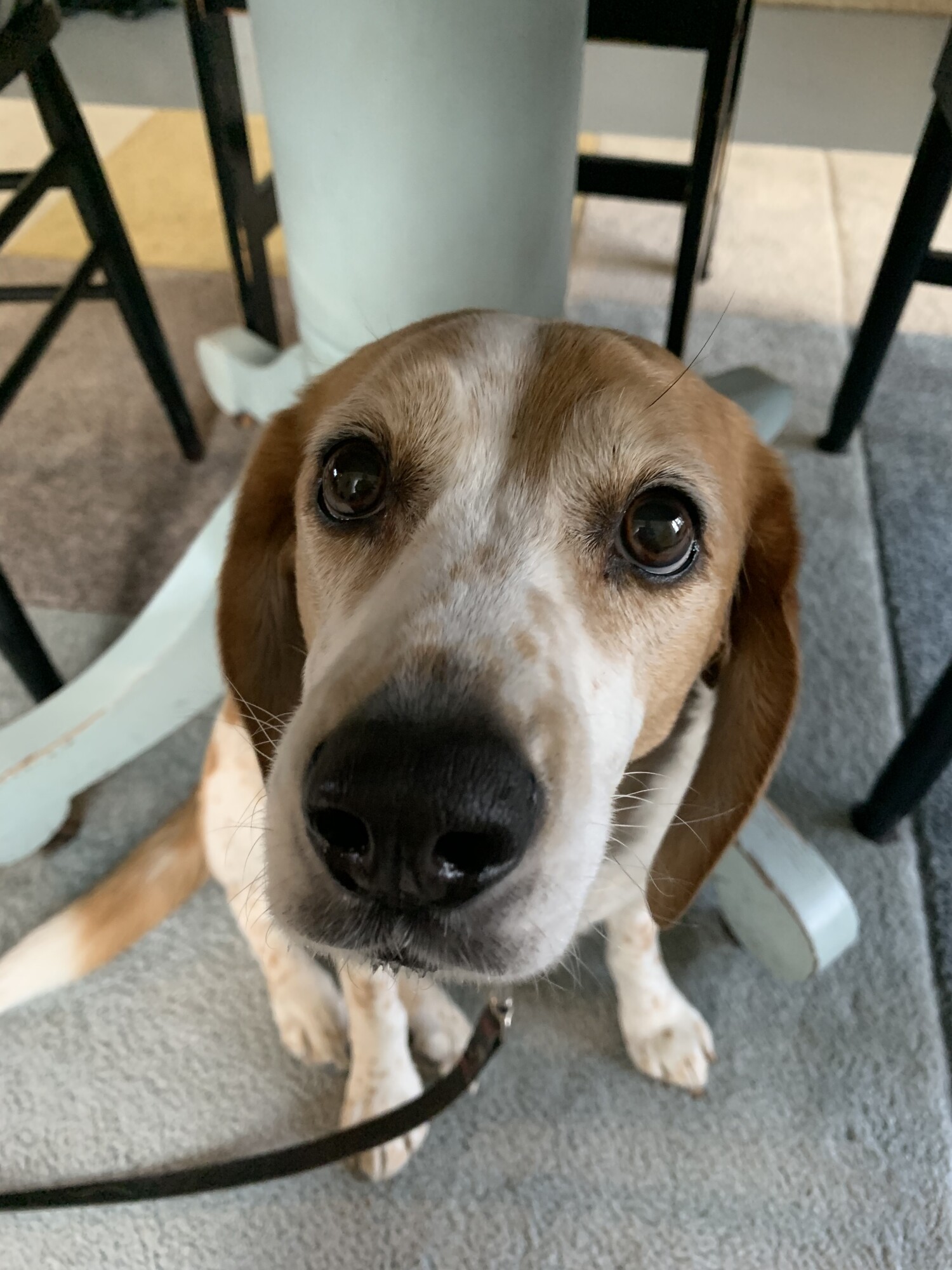 He is one persistent beagle. Ask anyone in my family.
Speaking of persistence, I think there's a lesson here about not giving up.
Luke 11:7 Jesus tells a story of a man who wakes his friend in the middle of the night asking for bread. It says that because of his shameless audacity, the friend answered the door and gave him all the bread he wanted. Not because of friendship, but because he stood his ground, waking all the neighbors. His persistence paid off.
Jesus goes on to say, learn from this man. Ask and it will be given to you, seek and you will find, knock and the door will be opened to you.
Or how about the parable in Luke 18 of the persistent widow and the judge? The judge refused the widow's plea for justice against her adversary until he finally had enough. He said "Because this widow keeps bothering me, I will see that she gets justice."
Scout's behavior (and Mercy's too) can often be bothersome to me. If it's not asking for treats, they may be annoying me with requests to be let out in the middle of the night or to play or walk at an inconvenient time. Mercy, my lab, bless her heart, will ask but often is quick to give up on me. Scout, on the other hand, will keep knocking. Keep asking. Keep seeking me out. He pleads with me with his big beagle eyes and cries until I say yes to him.
I cannot help but wonder if God is gently reminding me to not give up. To keep asking, seeking and knocking for the things he has placed upon my heart. He is a good father after all. He loves me so much more than I love my beagle- and I love him A LOT! And, thank goodness, God is more compassionate than the grumpy judge in the parable.
How about you? Is there an area of your life where you need to be persistent in prayer?
For me, there are several things I've been asking the Lord for.
To move. To have more energy. To grow my business.