Mar 24, 2023 02:36 PM Central
Jennifer Arnett
citrus fresh, cleaning, Essential OIls, health, healthyliving, premium starter bundle, spring cleaning, thieves, thieves household cleaner, thieves loyalty bundle, youngliving
Let's TALK ABOUT SPRING CLEANING
As the weather warms up and as I get ready to sell my home, cleaning is on my mind. Deep cleaning. Not only am I thinking about the windows I need to wash and the floors I need to clean, I'm also sorting through the stuff I haven't touched in years. You know, like things I've saved "just because" or "just in case. Time has lessened my attachment to them and I'm throwing away more than I'm keeping. I'm seeing the value of less being more. More peace. More space. More intentional, simple living.
However, simple living is more than just having less stuff. That's just one area of life. Simple living can be applied to routines, habits and even the products you use. And, it shouldn't surprise you that I have suggestions for how essential oils and oil-infused products can help you get more with less to
spring clean.
The Premium Starter Bundle
The essential oil premium starter bundle is my first recommendation for tackling
spring cleaning
. Twelve essential oils, a diffuser, a Thieves spray, a Thieves hand sanitizer, and samples of a superfood liquid supplement called Ningxia Red, will go a long way in cleaning your home and well as your mind, body.
You shouldn't neglect your body when you think of
cleaning.
The products you use will affect your health in either a positive or negative way. The bleach you may use to clean the grout damages your respiratory system and may cause headaches. It did to me. So many cleaners come with warnings and are filled with chemicals that are unsafe. On the other hand, using *Young Living essential oils, along with the famous Thieves household Cleaner (which I'll talk about soon), can go a long way in doing a much needed positive s
pring cleaning
in your body.
How do you use essential oils to
Spring Clean
?
Diffuse
Essential oils such as Thieves and Lemon and Citrus Fresh are great in the diffuser for cleansing the air and making it smell so… good! Thieves is spicy and sweet and the citrus oils have a fresh, clean smell. Oh my goodness! They will clean up the unwanted odors and lift the mood of all who enter your home. Diffuse any of these oils alone or together and feel free to switch it up everyday! Here's my favorite combo from the starter bundle.
Home Sweet Home Diffuser Blend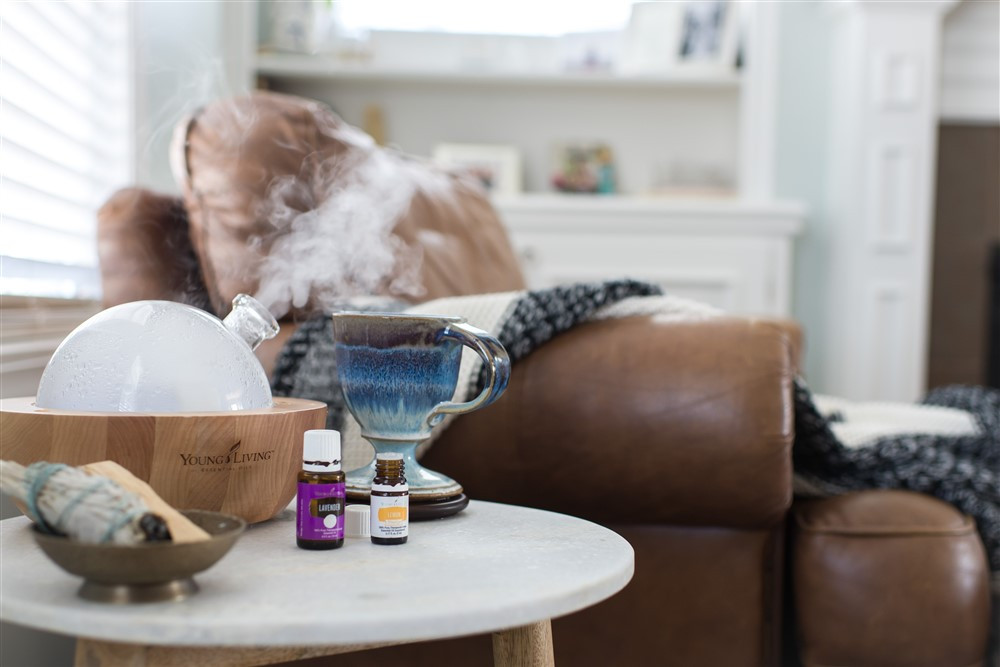 Ingredients
4 drops Thieves
3 drops Lavender
2 drops Frankincense
Instructions
Add essential oils to your diffuser. Fill with distilled water and diffuse for a comforting aroma.
Spray
Along with diffusing, making a room and linen spray is a wonderful way to freshen trash cans, shoes, closets, furniture, and more.
Citrus Fresh Room Spray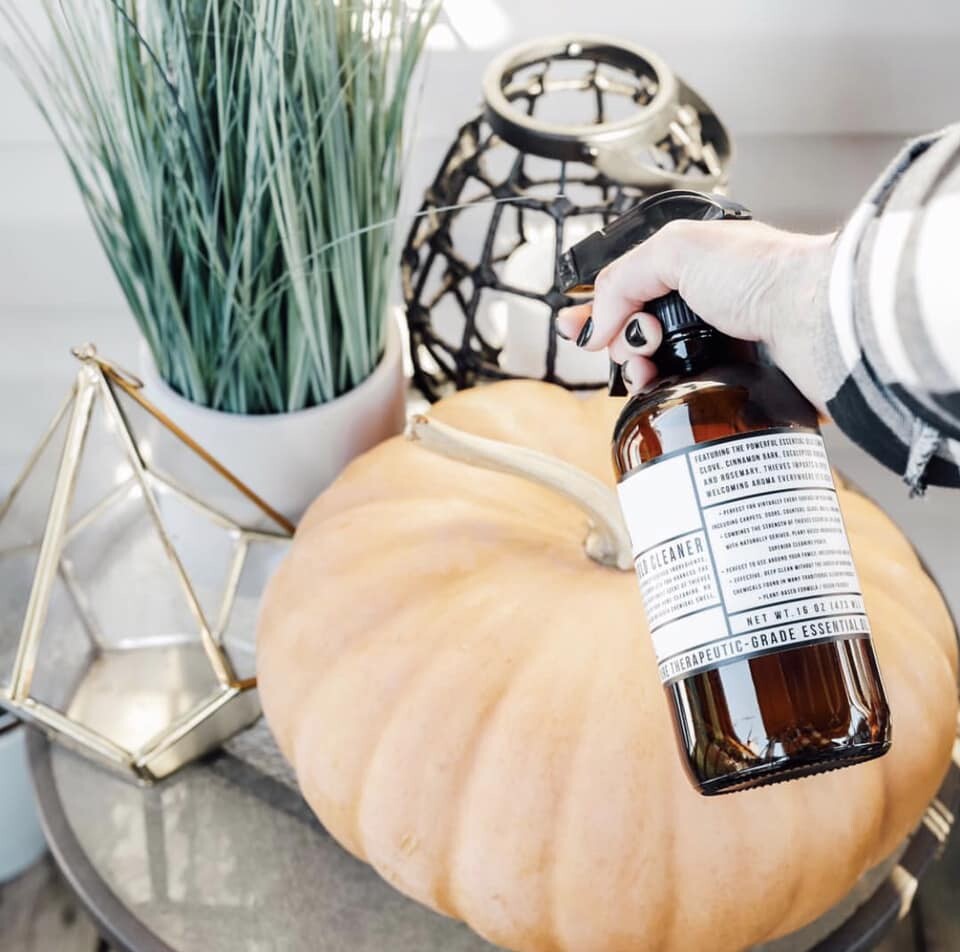 Ingredients
4 oz witch hazel
4 oz water
8 drops Citrus Fresh essential oil (Add more or less according to preference.)
Instructions
Combine into a spray bottle and shake well.
Add
Make your own homemade carpet deodorizer, and soft scrub using a few simple ingredients. First, for the deodorizer, pour some baking soda in a bowl. Add a few drops of Thieves essential oil and mix with a spoon. Sprinkle over your carpet and let sit before vacuuming. Baking soda is effective all on its own, but adding Thieves boosts it's cleaning power AND adds an aroma that fills your home and senses. You will come to love it and associate it with all things clean.
Next, here's the recipe I use all the time with my Thieves Household Cleaner. If you don't have the cleaner, you can also use the Thieves essential oil instead. Check it out!
Oven cleaner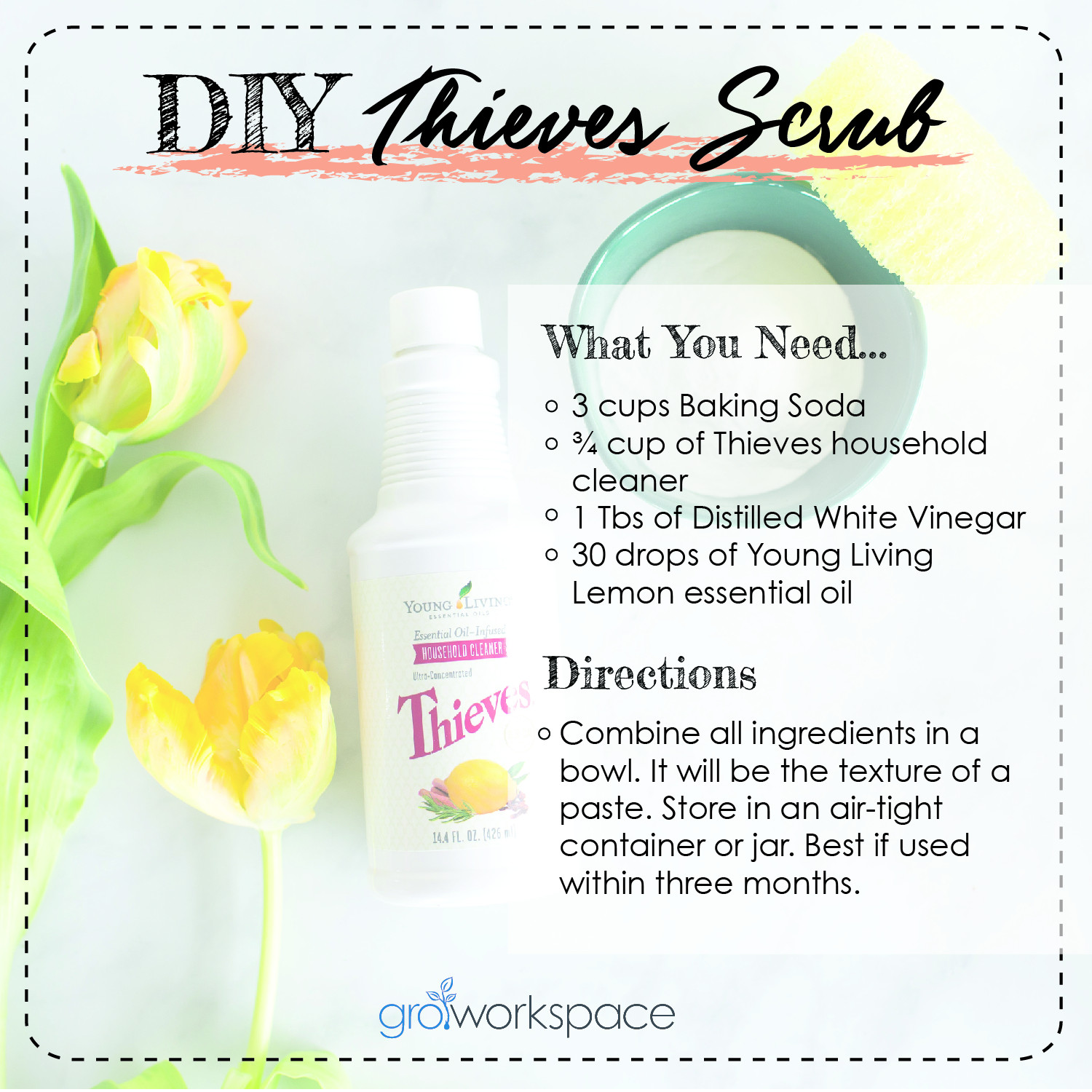 Ingredients
3 cups baking soda
3/4 cup THC or water
If using water, add 10 drops or more of Thieves essential oil
2 drops Lemon essential oil
Instructions
Combine. Store in airtight glass jar and use whenever you need scrubbing power. Example: Using an old toothbrush, spread on grout and let sit for ten minutes. Scrub clean.
Seasonal Support
And since I mentioned
spring cleaning
for not just your home, but also your body, let me tell you how this bundle helps you deal with all the yuck that floats through the air this time of year.
Lemon, Lavender and Peppermint is a classic trio. Diffuse this blend daily, or make a roller to apply topically throughout the day. Just as lemon can cleanse the air, it can cleanse your system too. And, if you've ever gotten a whiff of pure peppermint, you'll know how it can open things up! With the premium starter bundle you will get all three of these oils and will be able to put them to work for you right away.
And when you need a little extra support, there's also a blend called Raven that just might leave your breathing better than ever!
Spring Time Trio Roller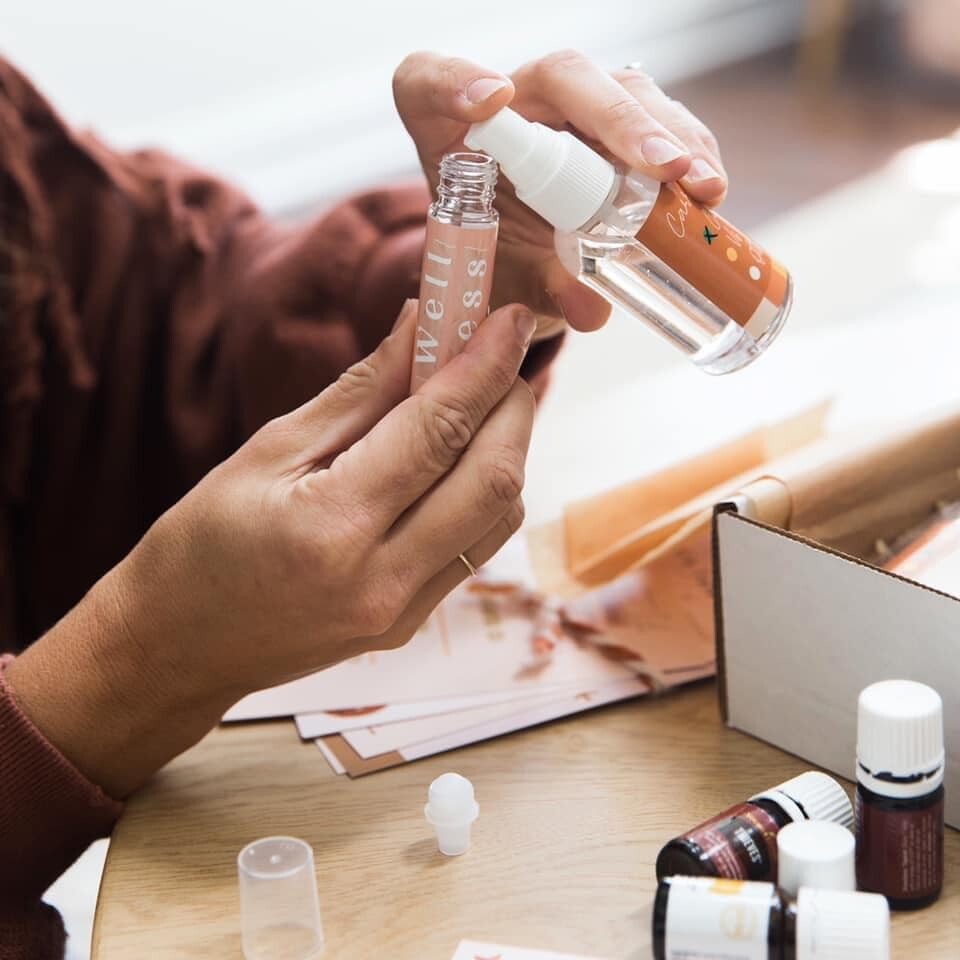 Ingredients
15 ml Roll-on bottle
5 drops lavender
5 drops peppermint
5 drops lemon

sweet almond oil
Instructions
Add essential oils and then fill to the top with the almond oil. Gently shake. Roll the blend on your wrists and behind ears multiple times daily. Breathe in the aroma often.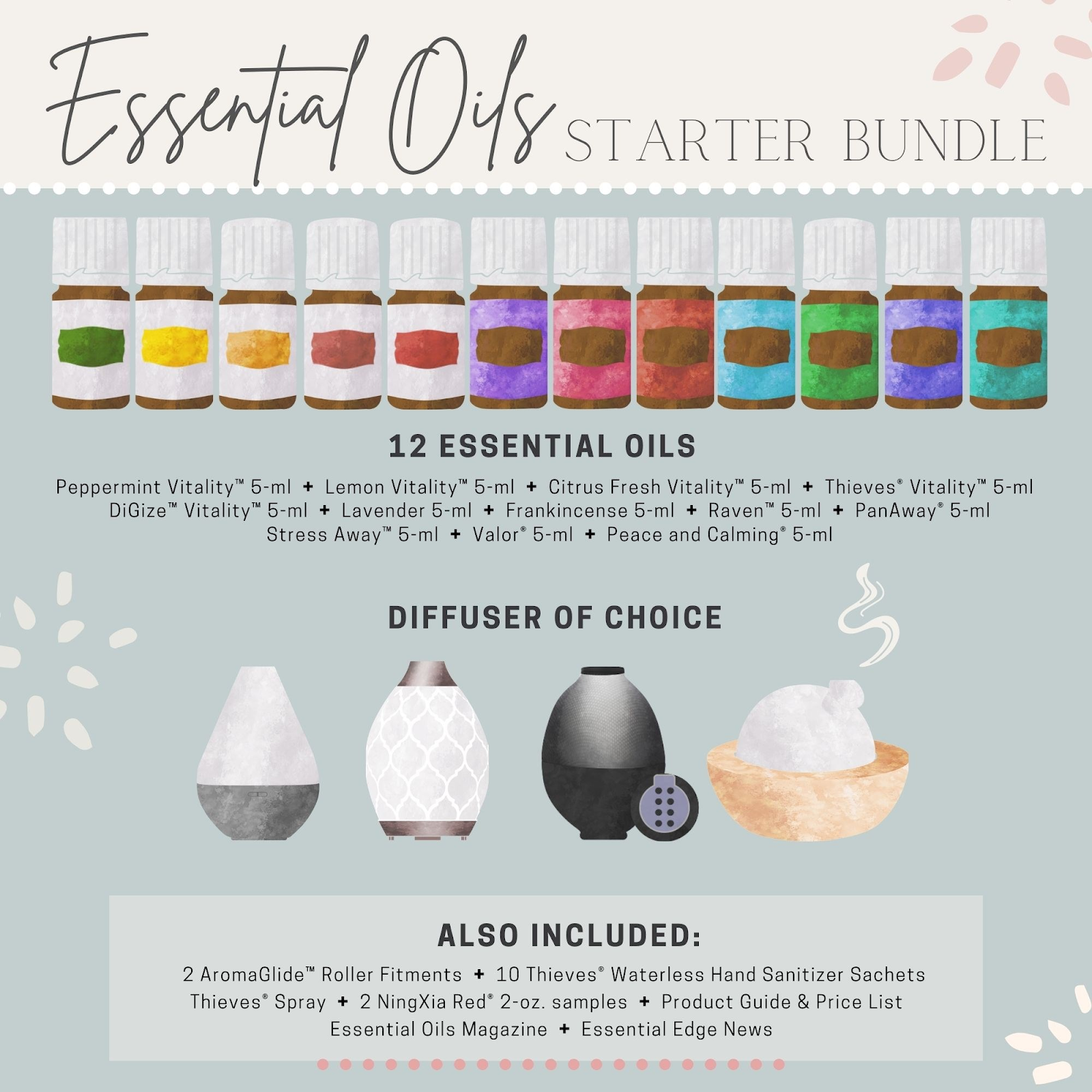 BUT wait! I'm not done yet! Let me tell you about the cleaner that beats all cleaners!
Thieves Household Cleaner
When you order your Premium starter bundle of oils, add the Thieves Household Cleaner to your cart. You won't be sorry. It will quickly become your favorite, all purpose cleaner. It's ultra concentrated and can be used for heavy or light cleaning. Dilute a capful of the cleaner into a 16 oz glass spray bottle for everyday cleaning. Add more for the tougher cleaning jobs. The uses are abundant!
If you prefer, there is a Thieves Loyalty Bundle as well. It comes with all you need to do clean your home, top to bottom. I highly recommend it!
Thieves® Household Cleaner, plus an amber glass spray
Thieves® Foaming Hand Soap
Thieves® Laundry Soap
Thieves® Fruit & Veggie Soak
Thieves® Dish Soap
Thieves® Kitchen & Bath Scrub
Thieves® essential oil blend, 15 ml
Lemon essential oil, 15 ml
Whatever bundle you choose, you will be getting amazing products that will improve your spring cleaning game! You will also be simplifying, because you can replace everything under your sink for the Thieves Cleaner and a box of oils. The ingredients are simple and clean. They will not burden your body, as many other cleaners do. Plus, they're safe to use around your kiddos and pets. No warning labels needed. That's a win for everyone!
Happy Spring Cleaning! I'm here for you if you need more ideas for using the bundles to the fullest.
Oh... and be sure to drink you samples of NIngxia Red. It is filled with antixoxidants that will do a spring cleaning on your cells! Its delicious too.